25 watt 500ma Constant Current LED Driver Electronic Circuit
smt-015ctm is a constant current led driver circuit avec sortie à courant constant à plusieurs étages; permettant à une seule unité d'être utilisée pour des applications pouvant présenter plusieurs niveaux de courant, tels que des conceptions d'éclairage de style projet. les niveaux actuels,300mA, 350mA, 500mA, 550mA, 450mA, 500mA, 650mA, 700mA,900mA, are easily switched by adjusting the built-in DIP switch. Multi-current DIP Adjustment output,15W/25W/50W available.
si nous trouvons des produits défectueux dans la garantie, que devons-nous savoir pour le produit défectueux?
nous donnons une garantie de 3 ans pour le variateur 220v. si les clients l'utilisent correctement, pratiquement aucun commentaire de nos clients sur les pilotes menés ne peut fonctionner ou être endommagé pendant la période de garantie.
We do not make up for new replacement if we find damage cames from inappropriate use of clients, But if confirm that damage cames from 220v dimmer itself, pls collect and keep all defective 220v dimmer. We promised to replace a new one.
Futures for 25w led driver :
· Pilote led dimmable à triac à courant constant de type courant constant
·Input range : 170-265VAC
· Efficacité: 83%
· Protections: court-circuit / surcharge / surintensité
·Fully isolated plastic case, IP20 design solution
·Easy installation, suitable for dry location
·Cooling by free air convection
·Strong compatibility, flicker-free dimming
· Convient aux applications d'éclairage à led et de signalisation mobile
·Dimming range: 0% ~ 100%
· Fonction de gradation: triac dimmable à découpage de phase dimmable
· Respect des règles de sécurité mondiales en matière d'éclairage
·3 years warranty
modèle #:

SMT-025CTM

sortie

Rated current

900mA

850mA

700mA

650mA

550mA

500mA

3 50ma

300mA

tolérance actuelle

± 5 %

DC Voltage

5 -28 v

5 -30 v

5 - 35 v

5 - 38 v

5 -45V

5 -50V

5 -50v

5 -50v

puissance nominale

25.2 w

25,5 w

24.5W

24.7W

22,5W

25W

1 7 .5w

15W

contribution

Rated Input Voltage

17 0-2 65V ac

Rated Frequency:

47-63HZ

facteur de puissance

PF≥ 0. 65 / 180vac pf≥ 0.65 / 230vac pf≥0.65/240VAC(Full loading)

Full Load Efficiency(Typ.)

81 %

81 %

82%

82%

82%

82%

81%

80%

AC Current(Max.)

0.50A

0.50A

0,48a

0,48a

043A

0,48a

0.34A

0,29a

Leakage current

< 0.5 0m une

protection

court-circuit

Hiccup mode, recovers automatically after fault condition is removed

Output No-Load Voltage

52-60v

surcharge

≤ 120%

Protection Class:

classeII

environ-

ment

Working TEMP.

-40-+60℃

humidité de travail

20- 95% HR, sans condensation

tem de stockage. humidité

-40- + 80 , dix- 95% HR

temp. coefficient

±0.03%/℃ (0-50℃ )

vibration

10- 500hz , 5g 12min./1 cycle , période pour 72min.each le long des axes x, y, z

sécurité & amp; emc

Safety standards

ul8750 + ul1310

tension de tenue

i / p-o / p: 1500kvac

résistance d'isolement

i / p-o / p : 100mΩ / 500vdc / 25 ℃ / 70% HR

émission emc

FCC Part 15 B

EMC IMMUNITY

EN61000-4-2,3,4,5,6 ,11, EN61547,A light industry level ( surtension 4kv )

Others

Weight

0.21Kg

Size

155* 54 * 20mm(L*W*H)

Inner box & carton emballage

Inner boîte :160*60*23mm C Arton Taille: 350 * 240 * 130mm 40 pcs / ctn

Remarques

1. tous les paramètres non spécialement mentionnés sont mesurés à 23 Entrée 0vac, charge nominale et 25 de température ambiante.

2. tolérance: comprend la tolérance nous, la régulation de ligne et la régulation de charge.
conducteur constant courant constant spécification mécanique: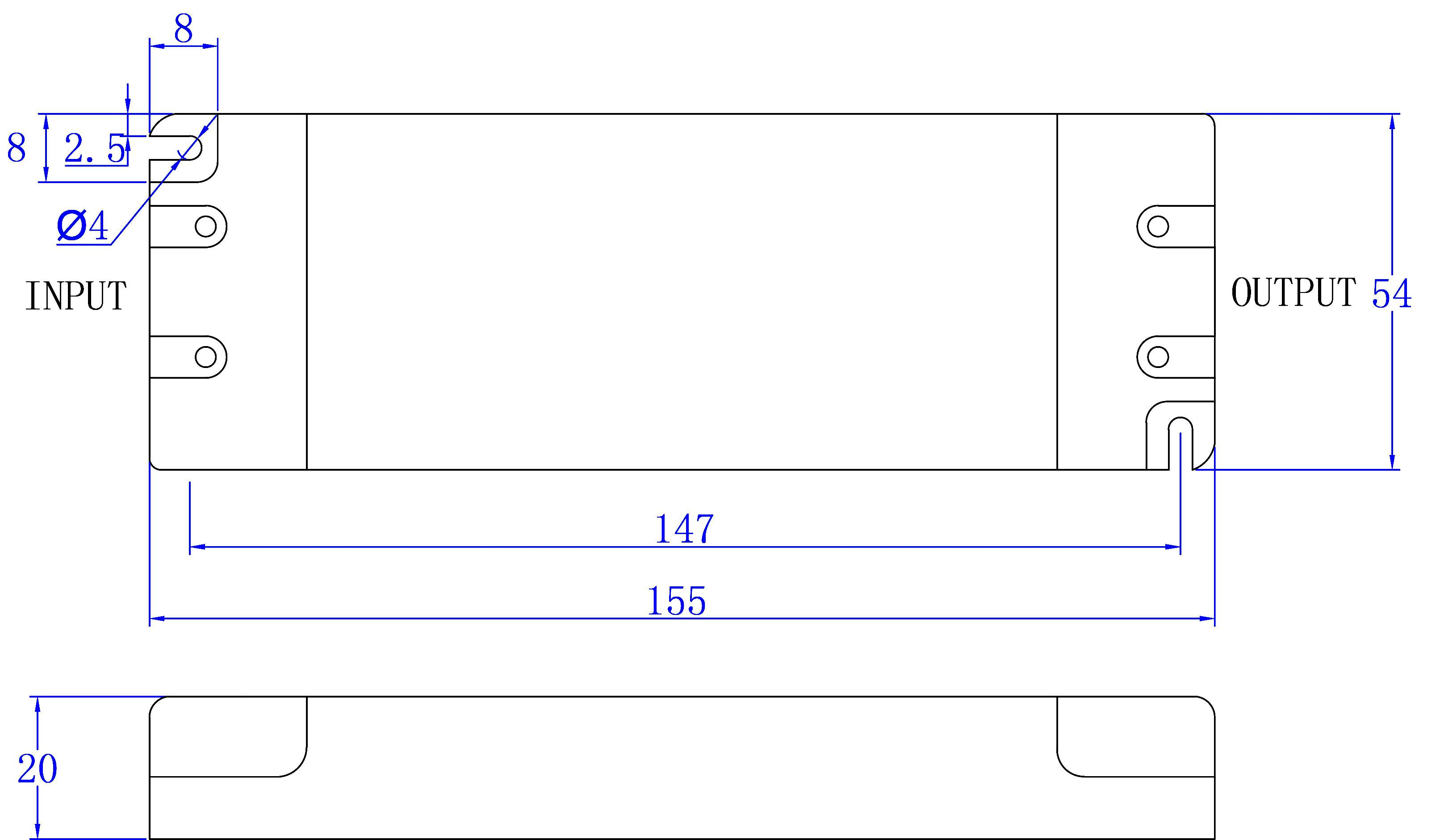 Ø entrée avec fil sous tension alternatif (l), fil neutre contre neutre (n)
Ø sortie led sec sortie positive (led +), sortie négative (led-). connecté à des lampes led.
Ø diamètre de fil suggéré: entrée 18-14awg; sortie: 20-14awg
Remarque: assurez-vous de les connecter correctement, sinon votre produit ne fonctionnera pas correctement et pourrait être endommagé
courbe de derating pour conducteur électronique led :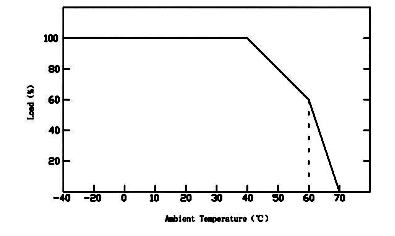 Ø pour prolonger leur durée de vie, veuillez vous reporter à la courbe de déclassement et déclasser en fonction de la température.
schémas de connexion de pilote led dimmable triac pour conducteur mené 500ma: