ce 50w 500ma 700ma alimentation à courant constant du conducteur led
smt-050cmt is a led driver power supply avec sortie à courant constant à plusieurs étages; permettant à une seule unité d'être utilisée pour des applications pouvant présenter plusieurs niveaux de courant, tels que des conceptions d'éclairage de style projet. les niveaux actuels,700mA, 850mA, 900mA, 1050mA, 1150mA & 1250mA,1300mA,1400mA , sont facilement commutables en ajustant le commutateur DIP intégré. and was designed to work with leading edge TRIAC dimmers, such as Lutron, C-BUS, Clipsal etc..
Que fait l'électronique intelligente du conducteur?
Answer:
Les alimentations d'éclairage à led de smarts electronics sont disponibles dans les gammes allant de 6w à 600w et existent sous de nombreuses formes différentes pour les installations d'éclairage à led intérieures et extérieures. notre gamme d'alimentation à éclairage constant à LED offre des courants allant de 300 mA à 2100 mA; tandis que la gamme de tension d'alimentation d'éclairage à leds à tension constante commence à 5v et continue jusqu'à 48v.
Cannot see the alimentation d'éclairage led that you are looking for? Use the product code search at the top of the site to search by a specific part or use our advanced product search to enter specific specification requirements.
modèle

SMT-050CTM

sortie

Rated current

1400 ma

1300 ma

1250mA

1150mA

1050m une

9 00mA

850mA

70 0ma

Current Tolerance

± 5 %

DC Voltage

10-36 v

10-38 v

10-40v

10-43 v

10-48V

10-50V

10-50V

10-50V

puissance nominale

50,4 w

49.4 w

50w

49.45W

50.4W

45W

42.5W

35W

Input

tension d'entrée nominale

170-265V ac

Rated Frequency:

47 -63HZ

facteur de puissance

PF ≥ 0.65/170VAC PF≥ 0.65 / 230vac pf≥0.65/240VAC(Full loading)

Full Load Efficiency(Typ .)

8 1 %

8 1 %

81%

8 1 %

81 %

8 2%

8 2%

82%

AC Current(Max.)

0,96a

0,94a

0.95a

0.94A

0.96A

0.85a

0.80A

0.66A

Courant de fuite

< 0.50mA

protection

Short Circuit

Hiccup mode, recovers automatically after fault condition is removed

tension de sortie à vide

52-60V

surcharge

≤120%

classe de protection:

II

environ-

ment

temp de travail

-40 - + 60

Working Humidity

20 -95%RH,non-condensing

tem de stockage. humidité

-40 - + 80 , dix-95%RH

temp. coefficient

± 0,03% / ℃(0-50℃ )

Vibration

10- 00hz , 5g 12min./1 cycle, période pour 72min.each le long des axes x, y, z

sécurité & amp; emc

les normes de sécurité

ul8750 + ul1310

tension de tenue

i / p-o / p: 1500kvac

résistance d'isolement

i / p-o / p: 100mΩ / 500vdc / 25 ℃ / 70% HR

émission emc

en55015, en61000-3-2,3 (charge ≧ 50%)

immunité emc

fcc partie 15 b

Others

poids

0.32 kg

Taille

178 * 61*24 mm( l * w * h )

emballage

carton extérieur :290*215*240mm 20pcs / ctn g.w: 7.5kg / ctn

Notes

1. tous les paramètres non spécialement mentionnés sont mesurés à 230VAC input , rated load and 25℃of ambient temperature.

2 tolérance: comprend la tolérance nous, la régulation de ligne et la régulation de charge.
50W conducteur led à courant constant Mechanical Specification: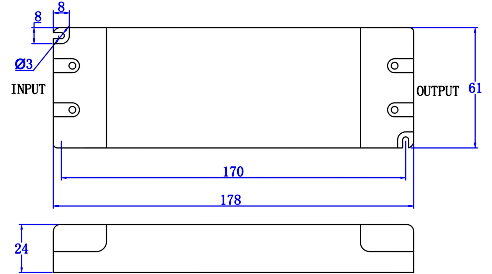 ØInput with Live Wire AC (L), Neutral Wire AC(N)
Ø sortie led sec sortie positive (led +), sortie négative (led-). connecté à des lampes led.
Ø diamètre de fil suggéré: entrée 18-14awg; sortie: 20-14awg
Note: Please make sure you connect these correctly otherwise your product will not function correctly and could be damaged
courbe de derating pourled driver 700ma: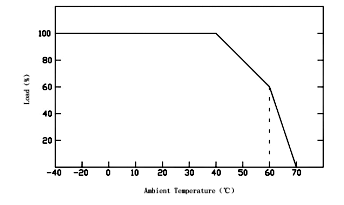 schémas de connexion de pilote led dimmable triac